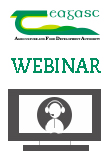 Let's Talk Poultry Webinar - Irish poultry industry outlook
16 July 2020
Type Event Proceeding

The final webinar in the "Let's Talk Poultry" series for Irish poultry producers in collaboration with Alltech which took place on Wednesday, 15 July.

Download Publication (PDF)
Webinar hosts, Rebecca Tierney, Teagasc and Niall Brennan Poultry Co-ordinator with Alltech Ireland, facilitated this webinar with a presentation from guest presenter Peter Duggan - Meat Division at Bord Bia. Peter discussed the Irish Poultry & Egg Industry Situation. Peter's presentation was followed by a Q&A session.
View the webinar below: