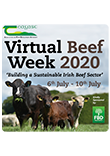 Livestock-handling on Irish beef farms: Implications for the human-animal-relationship
06 July 2020
Type Media Article

Livestock production systems consistently rank as one of the most hazardous with regard to farmer safety. Between 2009 and 2018, 16% of total fatalities in the Irish agricultural and forestry industry occurred in these production systems. A study of beef farmers on livestock handling has been conducted by Teagasc & UCD

The human-animal relationship (HAR) plays an important role in animal welfare, production, and the safety of those working with livestock. A high proportion of beef farmers in Ireland are farming on a part-time basis; this may have implications for animal handling and the HAR. The study aimed to determine how often full-time (FT) and part-time (PT) farmers handled livestock and how often handling livestock caused them stress. A questionnaire was designed for completion by farmers whom were enrolled in the DAFM Knowledge Transfer Beef programme. It consisted of 60 questions, some of which contained multiple parts in various styles. A total of 350 beef farmers with a mean herd size of 102 (SD; 97) animals completed the questionnaire. Data for 185 FT and 165 PT relating to frequency of handling and perceived stress when handling livestock were analysed. No difference was found in the frequency of handling livestock between FT (daily 16.2%, weekly 18.5%, monthly 16.2%) and PT (daily 8.8%, weekly 19.4%, monthly 16.2%) farmers. Similarly, no difference was found in the perception of how often handling livestock caused stress to the handler between FT (always 0.9%, very often 2.4%, sometimes 22.7%, rarely 18.5%, never 8.8%) and PT (always 0.6%, very often 1.8%, sometimes 23.8%, rarely 14.7%, never 5.9%) farmers. In conclusion, that there are no significant differences between FT and PT beef farmers in the frequency of handling of livestock, or in how often they identify as being stressed when handling livestock.
Contributors
Niamh Woods1,2, Mark McGee1, Marijke Beltman2, David Meredith3, John McNamara4, Francis Bligh5 and Bernadette Earley1
1AGRIC, Teagasc, Grange, Dunsany, Co. Meath
2School of Veterinary Medicine, University College Dublin, Belfield, Dublin 4
3Teagasc, Rural Economy Development Programme, Ashtown, Dublin 15
4Teagasc, Kildalton, Piltown, Co. Kilkenny
5Teagasc, Castlerea, Co. Roscommon
Acknowledgement
This research was supported under the Department of Agriculture, Food and the Marine Stimulus funded project (Ref: 17/S/269 RESL0434).