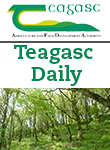 Multiple Benefits of a Farm Forest
07 June 2020
Type Media Article

Forestry is a wonderful resource with many uses and benefits, these include timber production, shade and shelter, biodiversity and recreation and wellbeing. Teagasc forestry advisor Frances Mc Hugh has more information.

Of the total forest estate in Ireland, 49.2% is privately owned, amounting to 378,663 ha providing an outstanding natural resource to people and the environment.
While the private forest estate is quite young; with almost all forests less than 30 years of age; tree growth is vigorous with many forests now producing quality timber. This also provides potential for many other benefits which are perhaps less obvious where a forestry culture does not exist.
Forestry as a land use option
The Forestry Programme presents a vast array of choice for land owners; combining support for growing highly productive conifers, broadleaves, native woodlands, agroforestry or growing wood for fibre. Grant categories can be combined on one application and managed using different silvicultural systems in order to meet multiple objectives. As well at the annual premium, the fact that forestry (planted since 2008) may be eligible for Basic payment removes a potential obstacle. Planting a new forest is a permanent land-use change and so should be considered and planned carefully. Research on the economics of forestry when compared with other farm enterprises demonstrates that it can play a significant role in improving farm income, overall farm efficiency and sustainability.
More details on the Afforestation programme are available here
The Timber resource
The overall forestry sector is worth an estimated €2.3 billion to the economy. The expansion of the sawmilling industry relies totally on the increasing supply coming from the private forest.
Well managed privately owned forests can become highly valuable as timber reaches a commercial value. In many productive conifer forests, timber production begins at the point when annual premiums finish, while final harvest can occur 15 years following the final premium payment. An alternative management system for example Continuous Cover Forestry where timber revenue in spead over many years can also be implemented.
Trees and Climate
Carbon sequestration is the net removal of carbon dioxide (CO2) from the atmosphere and its storage in plant biomass and the soil. Establishing a farm forest can contribute to the global environment and benefit the farm in terms of carbon sequestration. Forests offer carbon storage through on-site removal in growing trees, long term storage in wood products and emission avoidance by substitution of fossil fuel energy.
Shade and shelter
Trees and hedgerows are part of our cultural heritage and have always been highly valued by farmers for the shelter they provide for livestock and crops alike. This shelter effect can be further optimised by linking forests with existing hedgerows. Properly planned woodland and hedgerows can help reduce ground wind speed by up to 50% with resultant increases in air and soil temperatures of up to 5°C and 2°C respectively.
Biodiversity and habitat creation
Farm forests offer unique habitats for wild plants and animals. The range of plants and animals living in the forest is dependent on a number of factors including the age and species of trees growing. All new forests include a minimum of 15% broadleaves as well as up to 15% of the area dedicated to biodiversity enhancement. This gives an opportunity to plant a mix of species which will optimise the biodiversity potential of the forest while meeting many other objectives.
Forestry and Water
Forests and trees are a key part of the global water cycle. When managed appropriately, forests can reduce the effects of floods, prevent soil erosion, regulate the water table and assure a high quality water supply for people, industry and agriculture. Forest activities can have the potential to interact both positively and negatively with aquatic resources and so careful planning and management will mitigate against potential negative impacts while maximising the positive aspects of forestry, such as aquatic biodiversity enhancement and the creation of appropriate riparian ecosystems.
Recreation and wellbeing
From a small group of trees in an urban based park to larger forests in the countryside; trees form the basis of one of Ireland's most popular amenities. Many appreciate the sense of 'escape from the daily grind' that woodlands can offer. Beyond the very basic 'walk in the woods'; our woodlands are very versatile; being suitable for many activities like cycling, orienteering, paint balling or camping. An estimated 18 million visits are made to forests in Ireland every year; mainly in the estates of Coillte and the National parks; but does include private woodlands. The development of forests for recreation is seen as an important aspect of sustainable forestry and can provide business opportunities for private forest owners.
It is very important that landowners consider their own objectives when setting out to plant a new forest. Multiple benefits can be easily achieved when forests are well planned. Contact your local Teagasc Forestry Adviser for more information