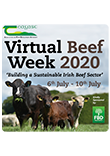 Novel diagnostics for bovine respiratory disease (BRD)
06 July 2020
Type Media Article

At Teagasc, Grange, new technologies are being used for the identification of viral and bacterial infectious agents causing bovine respiratory disease (BRD), commonly known as pneumonia. Researchers Dayle Johnston, Matthew McCabe, Gaelle Esnault, Inmaculada Cuevas-Gómez, Paul Cormican, Sinead Waters and Bernadette Earley give some information

At AGRIC, Teagasc, Grange, new technologies are being used for the identification of viral and bacterial infectious agents causing bovine respiratory disease (BRD), commonly known as pneumonia. The main viral causes of BRD include bovine respiratory syncytial virus (BRSV), bovine herpes virus 1 (BoHV1), bovine coronavirus and bovine parainfluenza 3, and known bacterial causative agents include Mannheimia haemolytica, Pasteurella multocida, Histophilus somni and Mycoplasma bovis. These viruses and bacteria are generally diagnosed using either culture on Petri dishes, a molecular technique known as qPCR, or mass spectrometry. However, these diagnostic techniques take between several hours to several days to return results and will not identify novel or unknown viruses which may be causing the disease.
At Teagasc, Grange, two new molecular based diagnostic techniques for the identification of bacteria and viruses (both known and novel) causing BRD are being used. The first approach is called 16S rRNA gene amplicon sequencing. Using this technique Mycoplasma and Pasteurellaceae have been identified, and in addition, a novel bacterium in the Leptotrichiaceae family was detected in lesioned lung tissue from BRD affected calves. The second approach is Oxford Nanopore MinION Sequencing, a molecular nucleic acid sequencing based technique that is optimised for the diagnosis of viruses causing BRD. This technique is being used to diagnose bovine coronavirus, BRSV and BoHV1 in nasal swab and lung culture samples. The MinION device is a small portable DNA sequencer, the size of a mobile phone, which can be attached to a laptop and used in a in a non-lab environment to identify, within minutes, the viruses or bacteria in nasal swabs from BRD affected animals. The MinION has the capability of becoming a rapid point of care diagnostic test for the identification of viral and bacterial species causing BRD, directly on farm. These new diagnostic approaches will enable prudent antibiotic usage for the treatment of animals affected by BRD.
This research is funded by a US-DAFM-DAERA partnership tripartite grant (RMIS-0776 ; Project 2018US-IRL200) led by Dr. Bernadette Earley and research investigators at Teagasc (Dr. Mark McGee, Dr Matt McCabe, Gaelle Esnault, Dr. Paul; Cormican), working in collaboration with the United States Meat Animal Research Center (US MARC) Clay Center, Newbraska, US (Dr. Tara McDaneld, Dr. Tim Smith) and AFBI, Northern Ireland (Prof. Louise Cosby). Inmaculada Cuevas-Gómez (MVB, M.Sc.) is employed as a Post-Doctoral researcher on the grant. Gaelle Esnault (MVB) is a Teagasc Walsh Scholar (RMIS 0344). Dr. Dayle Johnston is employed as a Post-Doctoral researcher on the US-DAFM-DAERA partnership tripartite grant (RMIS-0333 Project 16/RD/US-ROI/11) led by Dr. Sinead Waters.
Dayle Johnston, Matthew McCabe, Gaelle Esnault, Inmaculada Cuevas-Gómez, Paul Cormican, Sinead Waters and Bernadette Earley