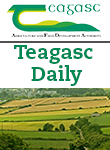 Questions and Answers with Organic Farmer Fergal Byrne
04 June 2020
Type Media Article

Fergal Byrne from Calverstown Little, Dunlavin, Co Kildare, is an organic beef, sheep and cereal farmer. A farm walk was due to take place on his farm this week.


Farm Profile
Farming 63ha
Mostly free draining land
19 suckler cows ( Charolais cross cows, Charolais stock bull)
220 breeding ewes ( Suffolk, Texel, Leicester cross ewes, Bluefaced Texel, Hampshire Down and Suffolk rams)
Stocking rate 1.35 L.U./ha
7 ha cereals
6 ha forestry
Farming organically for 5 years
Why did you convert to organic farming?
For a number of years I had an interest in organic farming. In 2014 I felt I had to start at looking at other options for the farm. At the time I was taking a lot of con acre and growing cereals on it. Every time I went into the field I was spending money on the likes of fertilisers and sprays. I wanted a change to a system where I could have more control. I went to an organic farm walk in Tipperary, talking to the farmer, and all involved with the farm walk I started thinking this could be for me. In late 2014 I completed a 25 hour Introduction to Organic Farming course. Having that done we drew up a farm plan and decided to convert to organic and in 2015 the farm entered conversion to organics.
What changes have been made to the farming system over the past five year?
Firstly I gave up the con acre and concentrated on farming the home farm. I was not overstocked on the farm; I had to refocus on how to make the farm viable.
Prior to going organic, weanlings were sold in the autumn. It took three years before I was selling finished animals. I did it in stages; year1 selling the weanlings, year 2 the yearlings and since year 3 finished animals.
The ewe numbers have increased to 220 breeding ewes. They are lambed in two batches, starting in Mid-February. The second batch starts lambing in Mid-March. In the last three years we are getting the first of our finished lambs sold from the first week of June and are sold throughout the summer.
You also have cereals what crops did you sow this year?
After last year's harvest a cover crop of fodder rape was sown and grazed by the sheep over the winter months. In mid-March this was ploughed and left until 6 days before sowing when it was tilled. After 6 days on the 8th April 18 acres of oats and 8.5 acres of a combicrop made up of a mixture of barley, oats and a combinable pea were sown. I would be expecting that both crops will ripen nearly at the same time. I should be combining them in Mid-August and would hope to get around 2 tonnes per acre for both crops. The combicrop is kept for on farm winter feeding.
Photo on left - Organic combicrop of barley, oats and peas 1st June 2020 | Photo on right – Organic spring oat crop 3rd June 2020
You sowed a red clover sward last year why?
The reasons that I sowed it were for its high protein feed value for winter feed and it fixes nitrogen from the atmosphere. I am going to cut it for silage.
I sowed the red clover grass mixture in early May 2019 in a field that had been tilled continuously for the previous forty years. I took a cut of silage off it on the 21st of May this year and got 7 bales per acre. On this field last year we took two cuts off it and got 17 bales per acre
(Photo on left) Red clover grass sward 1st June 2020 (11 days after cutting)
Do you have organic markets for your stock and oats?
The last two years the finished cattle are sold in two batches in late January and March. They are sold to the organic processor Good Herdsmen in Tipperary. They are just two year old with average carcass weight of 340kgs
I have two organic markets for my finished lambs. We supply lambs to Irish Country Meats in Wexford and to Coolanowle Organic Meats in Laois. The average carcass weights of the lambs are 20kg
The oats are grown on contract for Flahavans in Waterford for their organic porridge. This year I am expecting to get 2 tonnes per acre.
Since last year the wool from shearing the sheep has been sold to a specialist organic wool miller to be made into knitting wool.
Pictured are suckler cows and calves as well as ewes and lambs, June 2020
What advice would you give someone considering organic farming?
You need to plan. For example if you want to sell finished animals you have to book them well in advance. Then you need to plan how and what you are going to feed them and in doing this, you need to be self-sufficient and provide as much as is possible from the farm itself. It is very worthwhile if you get the planning right.