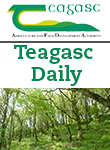 Rewarding forestry and farming working together
22 May 2020
Type Media Article

Successfully integrating forestry and farming can have rich sustainability dividends. The RDS Teagasc Farm Forestry Award recognises farmers who are leading the way. Noel Kennedy, Forestry Development Officer, Teagasc tells us more.

The 2020 RDS Teagasc Farm Forestry Award is now open for entries. This Teagasc sponsored award recognises those farmers who are successfully meeting the challenge of integrating forestry on their farms. Successful integration presents a golden opportunity to fully realise the many economic, environmental and practical benefits of trees to boost farming resilience and longer term sustainability.
Gerard Deegan, 2019 RDS Teagasc Farm Forestry Award Winner
Working farmers who believe they are doing a good job in managing their forest as an integral part of the farm are strongly encouraged to enter.
RDS Teagasc Farm Forestry Award – eligibility criteria:
Forest area minimum 4ha.
Forest ages five to 15 years.
Open to farm forests – mainly conifer, mainly broadleaf and mixed woodlands.
Forest owner must be an active farmer, i.e. have DAFM identifier/s or other evidence of farming.
The winner of the RDS Teagasc Farm Forestry Award will receive €2,000 and an RDS Silver Medal. The runner-up will receive €1,000 and an RDS Certificate of Merit.
Award information and application forms are available at www.rds.ie/forestry . Information is also available at www.teagasc.ie/forestry. Closing date for applications is Friday 10th July 2020.
The RDS Teagasc Farm Forestry Award is one of three award categories in the annual RDS Forest and Woodland Awards - Ireland's National forestry awards - celebrating the best forests and foresters in Ireland.
Making forestry and farming work together
The process of making forestry and farming work well together can be challenging and not all farmers are getting the maximum reward from their forest. Planning to integrate forestry and farming should begin before any trees are planted, with a vision for the future based around a 'whole-farm' planning strategy. This should encompass not only the farm, but also the family and work life balance and the following questions should be considered:
Where and how will a forest best fit physically, economically and environmentally into the farm?
Will forestry work with my other farming schemes – for example, Basic Payment?
Have I a vision for my family, farming and forestry in 10, 20 years and beyond?
Finally, and critically – what can I do to get the best out of my forest?
Trees will quickly have a meaningful impact on the farm, whether it is sheltering stock, creating a new landscape, protecting an existing habitat or producing timber. To achieve this potential, and successfully integrate new forests with farms, farmers need to plan the logistics in the short-term.
What's more important is for farmers to stay the course with the growing trees, by being actively involved with their management and growing their own forestry knowledge over the longer term.
Getting advice from Teagasc forestry and farm advisors and working closely with an experienced forester are key elements to the achievement of a successful integration strategy.
For more information on how forestry can work with farming check www.teagasc.ie/crops/forestry/.