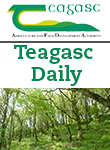 Talking Timber
21 June 2020
Type Media Article

Talking Timber – our popular annual timber marketing event is back. This year, due to COVID-19 restrictions, we are coming to you online with Virtual Talking Timber. We support forest owners in thinning their conifer forests, grow quality timber and sell it successfully.

With more and more private forests reaching thinning stage, there are both opportunities and challenges to successfully bring this rapidly expanding timber resource to market.
Forest owners need to ask the right questions and make the right decisions to maximise their conifer forests' potential quality and value. Questions may include:
Is my forest ready for thinning?
What is the best way to thin?
How can I keep control to ensure the best outcome?
Get more information here