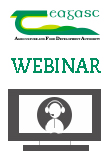 The Signpost Series – ASSAP – Farming for Water Quality
24 July 2020
Type Event Proceeding

The Signpost Series - 'Pointing the way to a low emissions agriculture'

Water Quality – ASSAP – Farming for Water Quality
The 17th in a series of Sustainable Agriculture Webinars aimed at Irish Agri Professionals, which took place on Friday, 24th July.
Mark Gibson, Teagasc ConnectEd was joined by Joe Crockett, DSI to discuss policy drivers and whole industry collaboration and by Noel Meehan, Teagasc who covered farm advisor engagement and farm specific plans.
This was followed by a Questions and Answers session.
View the presentations below:
Watch the webinar here: