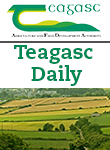 Two bees or not two bees: The EU Biodiversity Strategy for 2030
07 June 2020
Type Media Article

Many Irish farms perform well in respect of the quantity of wildlife habitats they support. There is nonetheless a decrease in the quantity and quality of habitats and species dependent on agricultural landscapes. Researcher Daire Ó hUallacháin has information on the EU biodiversity strategy.

Last year the UN Global Assessment Report on Biodiversity and Ecosystem Services indicated that one million species face extinction as a result of human activities. The report highlighted that the most significant threats to biodiversity and ecosystem services included; land-use change, exploitation of species, climate change, pollution and alien invasive species. The declining trend in biodiversity was particularly apparent in agricultural ecosystems, where changes in farming practices (e.g. intensification, specialisation and abandonment) have led to a decrease in the quantity and quality of habitats and species dependent on agricultural landscapes. Conservation of biodiversity and halting the degradation of ecosystem services (e.g. including, nutrient cycling in soil, flood prevention, carbon sequestration, carbon storage and pollination) are key environmental objectives of the European Union.
Image 1: Pollinators such as bees have undergone significant declines in recent decades. The EU Biodiversity Strategy aims to halt the decline in biodiversity.
Objectives of the EU Strategy
It is against this backdrop of declining biodiversity that the recent The EU Biodiversity Strategy for 2030 was published. The strategy includes 14 key commitments to be achieved by 2030. The commitments cover a range of marine, freshwater and terrestrial habitats, and a gradient of landscapes from urban to agricultural. Whilst some of the commitments are targeted to groups such as pollinators (Image 1), or likely to impact a small to moderate number of farmers, one of the key commitments is likely to impact all farmers. The strategy highlights that at least 10% of agricultural area should be dedicated to high-diversity landscape features (e.g. buffer strips, hedges and ponds etc). Each Member State will need to translate this 10% target for its own scenarios and conditions and ensure it is appropriately managed through the Common Agricultural Policy and in line with the recently published Farm to Fork Strategy.
Impact of The EU Biodiversity Strategy for 2030 for farmers:
Attaining a habitat threshold is nothing new to many Irish tillage farmers. Greening measures within the current CAP required tillage farmers to retain 5% of their land area as Ecological Focus Areas (EFA). A recent Teagasc study found that the percentage of EFA on surveyed Irish tillage farms was approximately 13%, considerably higher than the 5% requirement and higher than the average EFA percentage for other European countries (9%). Teagasc surveys of Irish farmland (grassland and tillage), found that habitat quantity (without applying any weighting or conversion factors as is done with EFAs) is, on average, 7-10% of the farm area on more intensively managed farms, and substantially higher on more extensive farming systems. Thus, many Irish farms perform well in respect of the quantity of wildlife habitats they support.
Habitat eligibility
However, it is not yet clear what habitats will be eligible when setting thresholds for 'high-diversity landscape features'. In Ireland, EFAs focused in particular on landscape features (e.g. hedges and buffer strips), with a large number of commonly occurring habitats (e.g. field margins and earth banks) deemed ineligible, despite being eligible in other countries. Similarly, under Cross Compliance, habitats such as heath, peatland, scrub and ponds (Image 2) are frequently deemed ineligible, despite their ecological importance (with ponds being specifically mentioned in the biodiversity strategy). The concern is that in the absence of recognition, many 'ineligible' habitats are in danger of being lost due to intensification or abandonment. Flexibility in relation to eligibility will protect a greater range of habitat types and ecosystem services and will make reaching habitat targets more achievable.
Once existing habitats have been retained, management practices can be undertaken to maintain or improve the quality of these habitat, ensuring the delivery of multiple ecosystem services.
Guidance for Management of Farmland Wildlife Habitats
Image 2: Semi-natural habitats such as ponds are at risk of removal if they are not afforded recognition under national or international policies. These habitats are important for biodiversity and for the provision of multiple ecosystem services (e.g. water quality, carbon storage and flood mitigation).