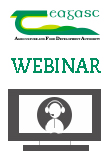 Use of Protected Urea - Webinar
22 May 2020
Type Event Proceeding

The Signpost Series - 'Pointing the way to a low emissions agriculture'

Download Publication (PDF)
The eight in a series of Greenhouse Gas Webinars aimed at Irish Agri Professionals, which took place on Friday, 22nd May.
Patrick Forrestal and David Wall, Teagasc discussed "Use of Protected Urea".
Patrick and David's presentation was followed by a Q&A session which was facilitated by Mark Gibson, Teagasc ConnectEd.
View the webinar here