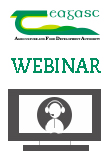 Webinar - Water Quality in Ireland
05 June 2020
Type Event Proceeding

The Signpost Series - 'Pointing the way to a low emissions agriculture'

Download Publication (PDF)
The tenth in a series of Sustainable Agriculture Webinars aimed at Irish Agri Professionals, which took place on Friday, 5th June.
Jenny Deakin, Environmental Protection Agenct (EPA) discussed "Water Quality in Ireland - current status and Ireland's 3rd River Basin Management Plan".
Jenny's presentation was followed by a Q&A session which was facilitated by Mark Gibson, Teagasc ConnectEd.