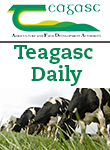 Why less is more when it comes to grass management
05 May 2020
Type Factsheet

Target is to complete 6 rotations between early to mid-April and mid-August. This can be achieved by sticking to a 20 day rotation. the best way to manage grass is to walk the farm weekly and enter the figures on Pasturebase Ireland

May is an important month on dairy farms. AI season is in full swing at the start and silage becomes a priority as the month progresses. All the while grass is growing and growing well.
It can be hard to keep on top of it all but it is extremely important to not become swamped with grass in May in order to set up the remainder of the summer grazing season.
Why is this so? Covers that are greater than 1400 kg DM/ha have increasing levels of fibre. Fibre content limits cow intake so higher covers, while appearing to offer greater intake potential actually reduces total intake and energy intake in particular. 1400 kg DM grass covers offer the best balance between energy delivered through maximum leaf content while also providing adequate fibre without limiting intakes. It is also the cover that is best for the grass plant in terms of recovery post grazing (green base so no lag phase) and maintains sward quality as the stem content remains low due to being well grazed with each rotation. This is the reason why less is more!
Our target is to complete 6 rotations between early to mid-April and mid-August. We can achieve this by sticking to a 20 day rotation. Growth will average 70 kg DM/ha over this period so 20 days at 70 kg DM/day will give a 1400kg DM/ha cover. You can manage your grass much of the way through this period by sticking to your rotation and grazing the right area of the right cover every day so for example;
100 cows consuming 16kg DM per day = 1600 kg grass DM per day.
At 1400kg DM/ha ideal cover (1600/1400) they need to graze approximately 1.1-1.2ha (2.75-3 acres) a day.
You will need 24ha or 60 acres for your 20 day rotation.
This can work but if growth is very good, or very slow, you will either be grazing too strong or too light a cover.
Without doubt the best way to manage your grass is to walk your farm on a weekly basis and enter the figures on Pasturebase Ireland. This will allow you to generate a grass wedge for the farm on the day and regular walks will tell you the growth that has taken place on the farm since the previous walk. It is these two pieces of information that will take you to the next level of grass management.
If you are interested in learning more about the process of grass measurement contact your local Teagasc office for assistance. All you will need to do is walk your farm, Pasturebase will do the calculations for you and generate the wedge. The challenge is to interpret the wedge and there is plenty of advice available to assist you with this.
Examples of a perfect wedge, a wedge in surplus and a wedge in deficit
View video below for more information the grass pland and managing grass.
Grass growth like you've never seen before! This is a time lapse video of a paddock over a 25 day period at Teagasc Moorepark.