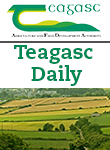 Why monitor water quality so often?
20 May 2020
Type Media Article

The Agricultural Catchments Programme (ACP) has been monitoring water quality in the river outlets of six catchments every 10 minutes for over 10 years. By Per-Erik Mellander and ACP team.

The Agricultural Catchments Programme (ACP), funded by the Department of Agriculture, Food and the Marine, was introduced in 2008 to evaluate the Nitrates Action Programme (NAP) of the Nitrates Directive in Ireland, and to provide scientific evidence for policy decisions.
The ACP has been monitoring water quality in the river outlets of six catchments every 10 minutes for over 10 years. There is a potential for each monitoring station, at the outlet of each catchment, to capture up to 420,000 data points per year. This wealth of water quality data is unique and has provided an improved understanding of catchment science; in terms of nutrient sources, pathways, delivery to water and impacts to aquatic ecology and how this is affected by farm management under the Nitrates Directive.
These monitoring sites also serve as an educational platform for visiting students and for engagement with farmers and stakeholders (Figure 1). Data can be viewed in real-time and data trends can be presented and linked to weather situations and farming events. In 2018, the ACP hosted over 40 groups visiting the monitoring sites.

Figure 1: Meeting at the monitoring site by the outlet of Timoleague catchment.
"Out-door river laboratories"
The experimental design of the ACP includes "out-door laboratories" in the catchments' river outlets (Figure 2). These pump up water from the river for onsite analysis of total phosphorus and reactive phosphorus concentrations using an automated Phosphax analyser. The sites are also equipped with optical sensors that monitor the water for nitrate, carbon concentration, and turbidity. The turbidity is used to estimate the sediment concentration. Other sensors monitor the water temperature and electrical conductivity. Each site in the catchments river outlet is also equipped to monitor the river flow at the same time-interval as the hydrochemistry. The mass load of nutrients lost from the catchment in the river can be derived by multiplying the river flow with concurrent concentrations of nutrients.

Figure 2: High temporal resolution water quality monitoring equipment and site.
There is a weather station in the centre of each catchment that records rainfall and other standard meteorological parameters such as air temperature, soil temperature, relative air humidity, solar radiation, wind speed and wind direction. Some of those parameters are used to estimate the potential evapotranspiration. The latest daily data from the weather stations can be viewed and downloaded at: https://www.acpmet.ie/
What have we learned?
Near continuous monitoring of water quality assures us that we are not missing any events and minimises the risk of data being skewed by few samples. It has provided us with insights to water quality during both baseflow conditions and flow events throughout the year. Even subtle water quality changes linked to reduced soil P pressures have been detected. Long-time continuous data has also provided insights to the importance of how large-scale weather systems have influenced yearly nutrient concentrations in rivers, which helps with the interpretation of trends in water quality and their causes. High frequency time-series of nutrient mass load has facilitated the ACP to provide new analytical methods to both identify and quantify nutrient transfer pathways and to understand processes taking place along the pathways. It has also helped to validate soil P critical source area models in the catchments.
Near continuous water quality data has been useful to test other sampling schemes such as passive samplers designed for flow-proportional sampling, to develop optimal sampling strategies, and to develop or test low-cost proxy parameters. It has also been used to interpret low frequency sampling of pollutants for which techniques to monitor at high time resolution are not easily available/accessible, for example faecal indication organisms, pharmaceutical and pesticides.
In the new funding period of our programme (2020 – 2023) these data rich, but relatively small catchments areas, can be used to extrapolate to larger areas where less data is available. It is important to understand what the underlying causes of observed water quality trends are and it will be useful to build robust numerical models of the ACP catchments to extrapolate to future conditions and assess the impact of changing climate and farming scenarios. Another aim is to use the gained knowledge to build decision support tools for managing nutrients and to identify appropriate mitigation strategies.
Additional resources

At the outlet of each catchment, a wide range of parameters including water flow, phosphorus and nitrate are being measured on a near-continuous basis since 2009.

Programme Chief Scientist Per-Erik Mellander describes how the high resolution monitoring of the water quality increases the understanding of nutrient loss stating "We have an outdoor lab – bankside analyser - that takes the sample from the stream and analyses it for phosphorous and nitrate ... and by now we have almost a decade of sub-hourly measurements in all the catchments."
View more videos from the Teagasc ACP team here | Follow @TeagascACP on twitter or the hashtag #TeagascJC