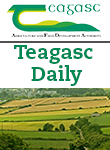 Wild Bird Cover providing a giant bird-table
17 May 2020
Type Media Article

The purpose of growing wild bird cover crops is to provide seed for birds during the winter when demand is highest. Catherine Kenna, Countryside Management Specialist, Teagasc tells us more.

Up to 12,000 farmers are growing almost 20,000 hectares of Wild Bird Cover under GLAS. Crops must be sown by 31st May.
Two seed types must be sown: a large cereal seed which suits birds such as yellowhammer, reed bunting and tree sparrow; and a small seed such as linseed, mustard, oilseed rape or kale which suit a wide range of birds including linnet, skylark and twite. Kale is a two year crop, remaining vegetative in the first year and flowering and seeding in the second year, so it can only be grown in half the plot on its own, with cereal in the other half on its own.Apart from kale the linseed, oilseed rape and mustard is sown in the same area as the cereal.
However it is worth noting the very different requirements of large and small seeds with regard to depth of sowing. Large seeds need to be sown to 5cms depth, while the smaller seed can get lost if sown below 1 cm. Therefore it is recommended to either drill the cereal or broadcast it with a fertiliser spreader and harrow in after. The smaller linseed, oilseed rape and mustard should be broadcast with a fertiliser spreader and rolled. Apply lime if required and fertiliser at about 2 bags of 18:6:12 per acre or more if your soil analysis allows.
A fine firm seedbed is essential. Pre-sowing weed control may be necessary where there are docks or thistles, or if vegetation present will make cultivation difficult. Rolling helps to conserve moisture and ensures contact between seed and soil. Do not apply pesticides after sowing, but spot treat noxious weeds such as ragwort, thistles and docks.
See how farmers are providing a giant bird-table here: Environment - Farmers providing a giant bird table
Skylark and Tree sparrow benefiting from Wild Bird Cover crops