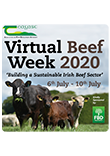 Winter Finishing: Grass-based systems
09 July 2020
Type Media Article

Even high-quality grass silage is incapable of sustaining adequate growth rates to exploit the growth potential of most cattle so concentrate supplementation is required. Mark McGee and Catherine Egan, Teagasc, AGRIC give advice on efficient feed utilisation when finishing cattle

Even high-quality grass silage is incapable of sustaining adequate growth rates to exploit the growth potential of most cattle so concentrate supplementation is required. Each 1 unit decline in dry matter digestibility (DMD) of grass silage requires an additional 0.3-0.4 kg concentrate daily to sustain performance in finishing cattle. For example, concentrate supplementation rates for finishing steers to achieve ~1.0 kg live weight/day with grass silage varying in DMD are shown in Table 1. This highlights the importance of having good silage quality for finishing cattle.
Efficiency of feed utilisation by finishing cattle primarily depends on weight of animal (decreases as live weight increases), potential for carcass growth (e.g. breed type, gender, compensatory growth potential) and duration (decreases as length increases) of finishing period. The optimum level of concentrate supplementation primarily depends on animal production response (kg gain/kg concentrate), forage substitution rate (the decrease in silage DM intake per unit of concentrate intake) and the relative prices of animal product and feedstuffs. It is important to ensure that an adequate level of an appropriate mineral/vitamin mix is included in the ration.
Concentrate feed ingredients
Comparisons of feedstuffs should always be based on their 'net' energy (and protein) values on a DM basis. Interactions or 'associative effects' between grass silage and concentrate feed ingredients have consequences for feed utilisation, and thus, the nutritive value assigned to feed ingredients. This means that relative feeding (and economic value) of by-product feed ingredients is contingent on concentrate feeding practices, such as inclusion level in the concentrate ration and the amount of concentrates fed, e.g. soya hulls may have an equivalent or inferior feeding value to rolled barley depending on feeding circumstances.
Protein supplementation
Energy is the most important nutrient required by finishing cattle. Finishing steers and heifers generally do not require protein supplementation when fed barley-based concentrates and high DMD grass silage. However, such cattle are likely to respond to supplementary protein in barley-based concentrates when grass silage has moderate to low DMD and/or low protein content.
Mark McGee and Catherine Egan, Teagasc, AGRIC
#BeefTalk
Make sure to tune into Thursday's #BeefTalk, where the panel will be discussing "Building resilience within your grass based system". Tune in at 12 pm here