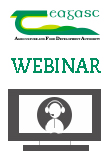 5th International Infogest Webinar on Food Digestion: Digestive amylases and starch digestion
11 January 2021
Type Event Proceeding

The 5th Infogest Food Digestion Webinar took place on Wednesday, 6 January 2021.

View recording below:
Speakers and topics:
Digestibility of starch and its effect on metabolism
Dr Sophie Vinoy, Mondelēz International, Saclay, France
Starch in food: factors affecting digestion of starch in vivo and in vitro
Dr Daniela Freitas, INRAE AgroParisTech, France and Teagasc, Ireland
Moderators: Dr Nadja Siegert, Fresenius Kabi and Prof Caroline Orfila, University of Leeds
Organisers: Dr André Brodkorb and Dr Muireann Egan (Teagasc)
These monthly webinars are hosted by Teagasc every first Wednesday at 2pm (Dublin) and focus on topics related to food digestion. Webinars will be held in the run-up to the next International Conference on Food Digestion taking place from 3-5 May 2022 in Cork, Ireland.
More information on the Infogest network can be found here