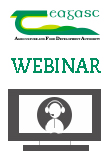 Creating a Win-Win Scenario for the Farmer and the Environment using PastureBase Ireland Webinar
18 January 2021
Type Event Proceeding

Reducing fertiliser costs and increasing nutrient use efficiency (NUE) benefits the farmer and the environment.

In this webinar, the Grass10 & PastureBase experts John Douglas, Micheal O'Leary and Joe Dunphy along with Teagasc Soil Researcher David Wall, outlined the challenges & opportunities in achieving this using PastureBase Ireland.
Attendees heard first hand from special guest dairy farmer Kevin Moran and learned about how he records his soil fertility and fertiliser on PastureBase and how this helps him become more nutrient efficient on his farm.
Watch it back below..
Creating win win for the farmer and the environment using PBI (pdf)