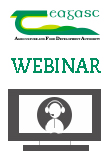 Farm Business Options Webinar - Enterprising and Sustainable Energy Communities in Louth and Kerry
17 February 2021
Type Event Proceeding

On a recent Farm Business Options Webinar which took place on Tuesday, 16 February, host Barry Caslin, Teagasc was joined by Gerry Reaburn, Rural Community Development Specialist; Kevin O'Sullivan, Teagasc Kerry/Limerick Advisor & Deirdre de Bhailís, Dingle Hub Manager to discuss Enterprising and Sustainable Energy Communities in Louth and Kerry.

Diversifying into non-farming business ventures is now almost an essential for farmers who want to secure their financial survival. This webinar focused on the key steps involved in farm diversification.
There is a growing interest in rural participation in various energy communities programmes. Deirdre de Bhailís, Dingle Hub Manager gave an insight into how dairy farmers in West Kerry plan to reduce their energy costs and generate renewable electricity.
Kevin O'Sullivan, Teagasc discussed the ECCO - Creating new local Energy Community Co-Operatives, which is part of an InterReg IV project.
View presentations below
View webinar recording below
Find out more about the series or register for future webinars here: Farm Business Options Webinars