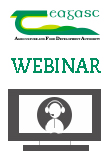 Farm Business Options Webinar - Organic Farming – Steps to Conversion and Opportunities
16 April 2021
Type Event Proceeding

On this episode of the Farm Business Options Webinar series which took place on Tuesday, 13th April, Barry Caslin was joined by Elaine Leavy, Teagasc Organic Specialist and Clive Bright, Organic grass only farmer, Sligo to discuss organic farming - steps to conversion and opportunities.

Elaine Leavy, Teagasc Organic Specialist gave an overview of the Organic Farming Scheme which is currently open for applications, balancing profit and sustainability, key considerations and opportunities which organic farming can offer.
Clive Bright, who is an organic grass only farmer based in Sligo also joined the webinar to give an insight into his journey farming organically to date.
View presentations below
Find out more about the series or register for future webinars here: Farm Business Options Webinars