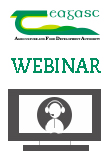 Farm Business Options Webinar - Social Farming
03 March 2021
Type Event Proceeding

On a recent Farm Business Options webinar which took place on Tuesday, 2nd March 2021, host Barry Caslin, Teagasc was joined by Helen Doherty, Social Farming Ireland, to outline what anyone considering running a Social Farm enterprise needs to know.

Two social dairy farmers, John Murphy from Kildinan, Co. Cork and Jennifer Payne from Tulsk, Co. Roscommon also joined the webinar to give an insight into their experiences to date.
A Q&A session took place at the end of the webinar.
View presentations below
View webinar recording below
Find out more about the series or register for future webinars here: Farm Business Options Webinars