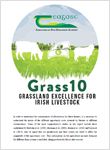 Grass10 Newsletter - 13th July 2021
13 July 2021
Type Newsletter

Information and updates from the Grass10 team

Download Publication (PDF)
The key messages in this week's newsletter are:
PastureBase Ireland data for the week for both Dairy and Beef & Sheep farms. Elodie Ruelle's MoSt Grass Growth Prediction Model.
Eugene & Eoin Lawler give us an update on the current grass supply on their farm in Co. Kildare
Grass10 Grazing Tips for the week
Grazing Update from Grassland Farmer of the Year- Heavy Soils Category Winner, Sean Barry from Co. Limerick as rainfall and good temperatures has increased grass growth on his farm
William Burchill from the Teagasc/Dairygold joint programme discusses how we can become more efficient with Nitrogen by correcting soil fertility on our farms.
We want your feedback! We would ask all our readers to please click on the button below and complete a survey on the weekly Grass10 Newsletter as we are always looking for ways to improve the newsletter. Thanks in advance