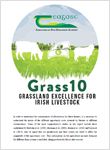 Grass10 Newsletter - 6th July 2021
06 July 2021
Type Newsletter

Information and updates from the Grass10 team

Download Publication (PDF)
The key messages in this week's newsletter are:
PastureBase Ireland data for the week for both Dairy and Beef & Sheep farms. Elodie Ruelle's MoSt Grass Growth Prediction Model.
Shane Seymour, host farmer for the Grass10 Grazing Group in Nenagh, Co. Tipperary gives us a grazing update from his farm as growth rates rebound after rainfall.
Clover Update on the Sheep Research Demonstration Farm in Athenry, Co. Galway from Philip Creighton
Grass10 Grazing Tips for the week
Grazing Update from Grassland Farmer of the Year- Sheep Category Winner Peter McGuinness from Co. Meath as he prepares for his farm walk this Wednesday 7th July.