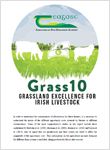 Grass10 Newsletter - 7 December 2021
07 December 2021
Type Newsletter

Information and updates from the Grass10 team

Download Publication (PDF)
The key messages in this week's newsletter are:
End of year update from Teagasc Grange, Co. Meath reviewing performance from the Dairy Calf to Beef trial.
Reminder from Mark Plunkett from Teagasc Johnstown Castle to soil sample & apply lime
Reviewing the Farm Summary Report from Overall and Dairy Grassland Farmer of the Year Caroline Walsh from Co. Cork.
Recap on the most recent Grass10 & PastureBase Ireland webinar titled " Opportunities for Growth in 2022", view it here
The PastureBase Scorecard is a great way to analyse your PastureBase reports & review your performance. Print out the scorecard and get reviewing your performance!