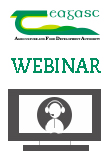 Let's Talk Dairy - Fertilizer for second cut silage / surplus bales
04 June 2021
Type Event Proceeding

In the latest episode of the Let's Talk Dairy webinar series which took place on the 3rd of June, Stuart Childs, Dairy Specialist discusses fertilizer requirements for second cut silage and also in terms of surplus silage taken off of milking platforms over the last couple of days.

The level of grass growth is very high at the moment which in result is creating the surplus silage.
This emphasizes two things:
We need to walk farms more regularly to try stay ahead of grass growth.
Trying to eliminate those surplus' in the challenging weather conditions.
Listen to the webinar as a bonus episode of The Dairy Edge below
Watch webinar recording below
Let's Talk Dairy is a weekly webinar series held every Thursday morning, offering timely, relevant and practical advice to allow you make better management decisions on your dairy farm. Find out more here