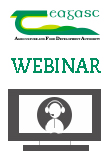 Let's Talk Dairy Webinar January 21st 2021 - Spring Nitrogen Strategy
25 January 2021
Type Event Proceeding

As part of the Let's Talk Dairy webinar for January 2021, Stuart Childs discusses the Spring Nitrogen Strategy for 2021 outlining some reminders and pointers relating to the strategy itself.

Stuart emphases the absolute importance of being mindful of the perception of water quality and slurry spreading deadlines throughout the country.
Buffer zones are of particular importance when spreading slurry, especially this time of the year.
View webinar recording below:
Let's Talk Dairy is a weekly webinar series held every Thursday morning, offering timely, relevant and practical advice to allow you make better management decisions on your dairy farm. Find out more here