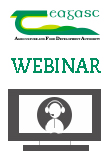 Let's Talk Equine - How does DNA testing support Equine Breeders?
07 October 2021
Type Event Proceeding

Wendy Conlon, Teagasc Equine Specialist was joined by Romy Morrin-O'Donnell of Weatherbys Scientific laboratories for the latest webinar in the Let's Talk Equine Webinar Series, which took place on Tuesday 5th October 2021.

Wendy and Romy discussed how DNA testing supports equine breeders.
Watch webinar recording below
The Let's Talk Equine series is delivered monthly, on Tuesday's at 8:30pm. It will offer an opportunity to hear from industry professionals discussing topics of relevance to horse breeders. Find out more about the series here