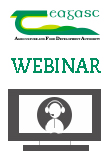 Malting Barley Conference 2021
23 February 2021
Type Event Proceeding

The Teagasc Malting Barley Conference in conjunction with Boortmalt, took place virtually on Tuesday 23 February as an interactive webinar.

The virtual conference, hosted by Michael Hennessy, Head of Crop Knowledge Transfer Department at Teagasc featured a variety of contributors sharing their expertise and experience including tillage specialists, advisors and farmers from their farms across the country.
Topics covered and speakers include:
Liquid Vs granular nitrogen on malting barley
Dr. Richie Hackett, Teagasc and Don Somers, Farmer, Co. Wexford
Managing catch crops with spring malting barley
Eoin Lyons, Teagasc and David Walsh-Kemmis, Farmer, Co. Laois

Ramularia control without Chlorothalonil (Bravo)
Deirdre Doyle, Teagasc
Teagasc/Boortmalt Joint Programme update
Eoin Lyons, Teagasc
Boortmalt update for the coming season
Max Potterton, Boortmalt
Watch the recording below
The Tillage Edge Podcast
On a recent episode of The Tillage Edge podcast, the focsus was on the questions and answers session at the conference. The expert panel included Deirdre Doyle, Eoin Lyons, Stephen Kildea, Ciaran Hickey and Richie Hackett, all from Teagasc as well as Tom Bryan from Boortmalt. The questions revolved around the topics on the webinar but also included questions about malting barley contracts, components of yield in barley, general barley disease control and more. Listen in below.