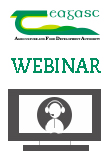 Signpost Series – Organic Farming – Steps to on farm conversion and opportunities
29 January 2021
Type Event Proceeding

Mark Gibson, Teagasc ConnectEd and Pat Murphy, Head of Teagasc Environment KT were joined by Elaine Leavy, Organic Specialist, Teagasc on Friday, 22 January, to discuss various steps you can take to covert to organic farming and some opportunities to exploit in switching to organic farming.

Only 2% of Ireland's land cover is under organic production. Elaine outlines that biodiversity is a key component that has come to the fore in EU policy around organic farming practices going forward into the future. A Q&A session took place at the end of Elaine's presentation
View Elaine's presentation here: Organic Farming Signpost Elaine Leavy (PDF)
View webinar recording below
The Signpost Series - 'Pointing the way to a low emissions agriculture' is organised through the Teagasc ConnectEd service, with the support of the National Rural Network, Dairy Sustainability Ireland and Food Drink Ireland Skillset.