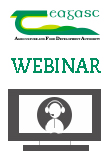 Signpost Series Webinar - Celebrating our biodiversity and motivating farmers to address the climate & biodiversity emergency
09 June 2021
Type Event Proceeding

On this episode of The Signpost Series, which took place on Friday, 21st May, Mark Gibson, Teagasc ConnectEd is joined by Dr. Brendan Dunford, Manager of The Burren Programme to discuss celebrating our biodiversity and motivating farmers to address the climate and biodiversity emergency.

Brendan's presentation was followed by a questions and answers session, facilitated by Pat Murphy, Head of Teagasc Environment KT Programme.
Conclusion:
When properly supported, our farmers can be the 'first responders' to our climate and biodiversity emergency. Let's start by designing better, farmer friendly supports that are:
Local - design, management etc greater pride of place, ownership
Fair - money earned should reflect both effort and outcomes
Flexible - ensure freedom to farm, to innovate, to adapt (weather, disease..)
Simple - e.g single, integrated whole farm sustainability plan, minimise need for receipts, support to secure permissions, payments etc.
Long lasting - continuity of support, of payments etc builds trust
Engaging - Positive (language, incentives), inclusive, fun, celebratory.
View presentation below
Listen to the webinar as a podcast below
Subscribe to and listen to previous podcasts at www.teagasc.ie/signpostpodcast
Watch webinar recording below
Find out more about the series here: Sustainable Agriculture Webinars