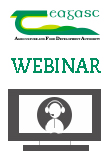 Sustainable energy solutions in horticulture using solar PV and Heat Recovery - Webinar
30 September 2021
Type Event Proceeding

Donal Gernon and Dónall Flanagan, Teagasc Horticulture Development Department hosted a webinar on Tuesday, 28 September which focused on sustainable energy solutions in horticulture using solar PV and Heat Recovery. They were joined by Pat Smith, Managing director of Local Power and Peter McMahon, Technical Sales Director of European Industrial Chillers.

There is a growing interest in the horticulture industry to reduce energy costs and use more sustainable energy options. While PV solar panels and heat pumps are not new technologies, there is ongoing refinement and improvements worth reviewing.
Pat Smith, Local Power has significant experience in the solar energy business and has worked with commercial and domestic customers to supply solar energy systems and EV chargers amongst other options. Peter McMahon, European Industrial Chillers provided an overview of the heat recovery 4-pipe Multifunctional Heat Pumps which are extremely popular these days in other industries.
Watch webinar recording below