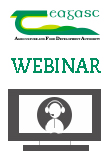 The Signpost Series Webinar - The Pearl Mussel Project EIP
21 September 2021
Type Event Proceeding

On this episode of The Signpost Series, which took place on Friday, 17th September, Mark Gibson, Teagasc ConnectEd Manager was joined by Dr Patrick Crushell, Project Manager, The Pearl Mussel Project EIP to discuss the Pearl Mussel Project EIP.

The Pearl Mussel Project EIP is a results based payment scheme targeting an endangered species while delivering wider environmental benefits.
A questions and answers session took place at the end of the webinar, which was facilitated by Pat Murphy, Head of Environment Knowledge Transfer Department, Teagasc.
View presentation below
Listen to the webinar as a podcast below

Subscribe to and listen to previous podcasts at www.teagasc.ie/signpostpodcast
Watch webinar recording below
Find out more about the series here: Sustainable Agriculture Webinars