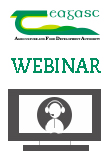 Virtual Talking Timber 2021
17 June 2021
Type Event Proceeding

Talking Timber 2021 – Teagasc's annual timber marketing event aims to support forest owners in harvesting their conifer forests. In its ninth year, this year's theme was "The Business of Forestry: how to sell timber". This live virtual event took place on Tuesday, 15 June 2021 at 7pm.

The event consisted of a mixture of short, on-site videos interspersed with live panel discussions. Viewers who attended the live broadcast had the opportunity to ask questions during a live Q&A session.
How do you sell your timber successfully? Forestry personnel from Teagasc and the Forestry Division of the Department of Agriculture, Food and the Marine (DAFM) together with a forest owner and a forestry consultant discussed timber harvesting.
The event focused primarily on second and third thinning and the market requirements for quality timber and best monetary return to the owner. Financial and taxation issues in relation to timber sales were discussed by IFAC.
Programme:
03:01 - Thinning and selling my timber, a forest owner's experience - Tim Reddin
17:23 - How to sell timber, a harvesting forester's perspective - Victor Barber, Western Forestry Co-op
33:07 - Timber sales and taxation - Declan McEvoy, IFAC
45:01 - Q&A session
56:54 - Tim Reddin's take-home message
Watch webinar recording below