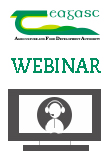 Let's Talk Dairy Webinar - Autumn Grass Targets - Where are we now?
03 October 2022
Type Event Proceeding

On this episode of Let's Talk Dairy which took place on Thursday, 29 September, Stuart Childs, Teagasc Dairy Specialist discusses Autumn Grass Targets - where are we now?.

Stuart gives an update on current figures in relation to where farm cover is, where that is relative to target cover, etc. Stuart outlines the actions that farmers may need to take over the next two weeks to try and do the best that they can in terms of closing up the farm in a good situation for 2023.
Watch webinar recording below
Let's Talk Dairy is a weekly webinar series held every Thursday morning, offering timely, relevant and practical advice to allow you make better management decisions on your dairy farm. Watch back previous webinars here