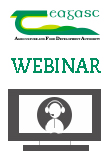 Let's Talk Equine Webinar - Assisted reproductive technologies: When, How and Why?
13 April 2022
Type Event Proceeding

On this episode of Let's Talk Equine, which took place on Tuesday, 5th April, Wendy Conlon, Teagasc Equine Specialist was joined by Dr Niamh Lewis, Lecturer/Assistant Professor in Equine Reproduction and Fertility at the School of Veterinary Medicine UCD to discuss the when, how and why of assisted reproductive technologies.

Niamh gave an introductory recap of equine reproductive physiology for context, explained reasons for producing horses in vitro, discussed managing expectations with problem mares/ infertility and succinctly explained I.C.S.I. (intra-cytoplasmic sperm injection).
Watch webinar recording below
The Let's Talk Equine series is delivered monthly, on Tuesday's at 8:30pm. It will offer an opportunity to hear from industry professionals discussing topics of relevance to horse breeders. Find out more about the series here