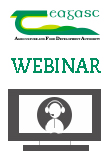 Once a Day Milking Conference 2022
07 January 2022
Type Event Proceeding

Once a Day Milking Conference 2022 took place virtually on Thursday, 6 January. The theme of this year's online conference centered around the latest research about the impact of once a day milking on milk production and how to manage this effect.

The big challenges farmers face when considering the option of once a day milking are the risk of increased somatic cell count and reduced milk yield. This however is counterbalanced by improved cow fertility and farmer lifestyle.
The virtual conference was chaired by Stuart Childs, Teagasc Dairy Specialist and the speakers at this conference included Emer Kennedy, Teagasc; Don Crowley, Teagasc and dairy farmer Eamon Connaughton. James Dunne, Teagasc Dairy Specialist facilitated the questions and answers serssion.
View presentations below
Watch webinar recording below