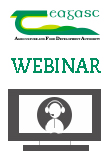 Signpost Series Webinar - Best practice hedge cutting and launch of Hedgerow Week 2022
08 September 2022
Type Event Proceeding

On Friday, 26th August, Hedgerow Week 2022 was launched by Minister of State at the Department of Agriculture, Food and the Marine, Senator Pippa Hackett on an episode of the Signpost Webinar Series.

Mark Gibson, Head of Teagasc Outreach & Innovation Department, Teagasc was joined by guest speakers Dr. Catherine Keena, Countryside Management Specialist, Teagasc and Francis Quigley, Teagasc Machinery Specialist to give an insight into best practice hedge cutting.
A questions and answers session took place at the end of the webinar.
Watch webinar recording below
Find out more about the series here: Sustainable Agriculture Webinars