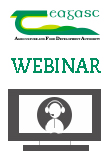 Hydro Power on Farms - Going With The Flow - Webinar
15 April 2023
Type Event Proceeding

Fiacc O'Brolchain, Hydropower Engineer Specialist spoke to Barry Caslin, Teagasc on Wednesday, 12th April about the option to generate electricity from hydro on farms.

Watch webinar recording below
Areas that were covered included:
Planning requirements
Types of hydro
Feasibility studies
Selling to the grid
Cost of construction
Maintenance costs
River/site suitability
Protecting the spawning fish
Labour input
Government agencies involved
Where do I get advice
With high electricity prices and uncertainty farmers with steep land and high, consistent volumes of rainfall may consider hydropower. Some of the power generated can be used on the farm, saving it on its electricity bills, a saving that is expected to become more significant as conventional electricity costs rise. In addition to the Microgeneration Support Scheme can generate an income from power which is exported to the national grid and earns an export tariff which is paid by the buyer of the power.