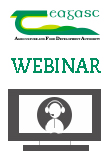 Let's Talk Equine - Different horses for different courses
13 April 2023
Type Event Proceeding

In the April episode of Let's Talk Equine, which took place on Tuesday, 4th April, host Wendy Conlon, Teagasc Equine Specialist was joined by Philippa Scott and Hannah Gordon to discuss 'different horses for different courses'.

Philippa and Hannah, utilising Connemara Pony; Irish Draught; Thoroughbred; traditional and warmblood cross examples, gave an insightful explanation of their involvement in the amateur performance and showing markets.
Plenty of key advice was shared in relation to the production and marketing of these horses/ponies and what their customers place value on.
Watch webinar recording below
The Let's Talk Equine series is delivered monthly, on Tuesday's at 8:30pm. It will offer an opportunity to hear from industry professionals discussing topics of relevance to horse breeders. Find out more about the series here