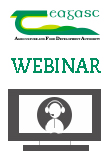 Let's Talk Equine - Insights into how a referral clinic serves the sector
16 March 2023
Type Event Proceeding

On this episode of Let's Talk Equine, which took place on Tuesday, 7th March, host Wendy Conlon, Teagasc Equine Specialist was joined by Ann Derham MVB DVMS Dipl ECVS, EBVS® European Specialist in Large Animal Surgery, Fethard Equine Hospital to discuss how a referral clinic serves the sector.

Ann took us through the varied services provided at Fethard Equine Hospital including some of the more routine elective procedures, an insight into less common procedures, and other more novel approaches. It was a 'whistle stop tour' intended to give an overview of the work that takes place at the hospital.
Please be advised that some of the graphics content of this webinar is of a surgical nature.
Watch webinar recording below
The Let's Talk Equine series is delivered monthly, on Tuesday's at 8:30pm. It will offer an opportunity to hear from industry professionals discussing topics of relevance to horse breeders. Find out more about the series here