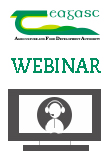 Let's Talk Organics - Feeding the ewe pre and post lambing in an organic situation
14 March 2023
Type Event Proceeding

Elaine Leavy and Joe Kelleher, Teagasc Organic Specialists hosted a Let's Talk Organics webinar on Wednesday, 8th March which focused on feeding the ewe pre and post lambing in an organic situation. The team were joined by Michael Gottstein, Head of Sheep Knowledge Transfer; Cathal McCauley, Teagasc Organic Advisor; and Organic Sheep Farmers Amy Jackson & Barry O'Hagan. 

Michael Gottstein discussed feeding the ewe pre-lambing; Cathal McCauley outlined organic minerals and regulations around veterinary; and Amy Jackson & Barry O'Hagan gave an insight into feeding the ewe pre and post lambing on their organic farms.
Watch webinar recording below
About Amy Jackson & Barry O'Hagan
Amy Jackson farmers in partnership with her husband Ross on their 50.5Ha sheep and tillage farm in North Tipperary. They keep approx. 150 ewes that lamb in March/early April each year with many of their lambs sold direct to customers under their brand "Lacka organic lamb". Ewes have scanned at 1.68 lambs/ewe this year. Breeds include mainly Texel crosses, Charollais crosses, New Zealand Suffolk, Belclares, and Rouge. All ewes and lambs are out-wintered on cover crops and multi species swards until February before housing. They are farming organically since 2015.
Barry O'Hagan is farming 56 Ha of heavy clay and peat soils including some commonage in North Leitrim. He runs approx. 158 ewes which are predominantly Lanark Blackface Horned sheep. The ewe lambs have been typically sold as breeding ewe lambs through a producer group and ram lambs have been finished on farm. The ewes are fed for 6-8 weeks pre lambing depending on the scanning rate. Barry entered organics on the 1st of January 2023 and is currently in conversion.
For more information about the Teagasc Organics Programme please visit www.teagasc.ie/organics
Or follow us on Twitter @TeagascOrganics