25 May 2022
Grass10 Newsletter - 24th May 2022
The Grass10 e-Newsletter features; Grass10 featured farmer Sean O'Donnell, Co. Mayo, the clover reporter with Ger Pardy, Co. Offaly; a look back on the Getting to Grips with the Summer Wedge webinar plus Grass10 weekly tips and checklist; grass growth predictions, and more here
197th Edition - 24th May 2022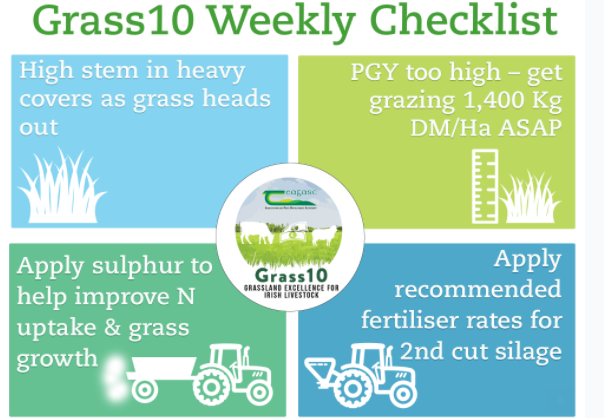 Grass10 Weekly Tips
High stem content in heavy covers as grass heads out
High growth rates over the past few weeks have led to surplus grass on most farms. This has made keeping the correct pre-grazing yield (PGY) challenging and many farms have been grazing covers that are gone too strong for grazing and should be skipped. In covers >1,600 KgDM/ha true stem has developed in the past week as perennial ryegrass plants head out and produce seed heads (think of poor quality silage!). This is detrimental to milk solids production and liveweight gain. Rotation length needs to be shortened by 3-4 days on most farms
PGY too high – get grazing 1,400 Kg DM/ha ASAP
Keeping PGY at 1400 Kg DM/Ha is a challenge however you must be brave when it comes to decision making on paddocks. Use the grazing targets and the PBI projected planner to take the guesswork out of decision making and build your confidence. High quality swards are more digestible and have more leaf. Poor quality swards have more stem and are less digestible. The difference to dairy farmer is a 5% drop in milk solids (worth about €420 per week for 100 cows). The difference for a beef farmer is 0.2 Kg/head/day in liveweight gain (worth about €175 per week for 50 cattle). High quality grass swards mean grazing at 1,400 KgDM/ha and grazing out to 4cm – what you earn depends on the decision you make. See the diagram below from our last webinar on the value of getting animals in the right grass! On some drier farms growth has declined and managing PGY should be easier.
Apply sulphur to help improve N uptake & grass growth
Over the past few years, farmers have been applying sulphur to grazing swards at a ratio of 1unit Sulphur/acre for every 12unit N/ac. This year should be no different, however talking to farmers this has been overlooked. Aim to get sulphur applied in your next few rounds until July. Sulphur helps increase N uptake, making it more efficient, decreases leaching, increases total DM yield grown, and is important for protein development in grass.
Apply recommended fertiliser rates for 2nd cut silage
Ensure that 2nd cut crops are fertilised adequately to ensure a good yield of grass at harvest time. Aiming for a 4 T DM/ha yield requires a total of 80u N/ac - 13u P/ac - 80u K/ac - 12u S/ac. This includes slurry. Aim to apply cattle slurry using LESS after 1st cut silage and empty slurry tanks before the winter period and reduce your fertiliser bill. If expecting a 3 T DM/ha yield, multiply figures above by 0.75.
Grass10 Featured Farmer
Sean O'Donnell, Co. Mayo
Sean O'Donnell farms near Ballina, Co. Mayo. Sean milks 215 cows across two grazing platforms. Sean was 2021 Mixed Soils Grassland Farmer of the Year Winner. He will be hosting a farm walk on his farm on Friday 8th July. We caught up with him this week to see how grazing is currently going.
Ger Pardy, Dairy Farmer, Co. Offaly
This section will give weekly reports and videos from farmers who have a lot of clover established on their farms.
This week, dairy farmer, Ger Pardy from Co. Offaly gives a great insight into his clover paddocks. Ger has had a focus on clover for the past 10 years and has a lot of experience with it.
Getting to Grips with the Summer Wedge
On Thursday 12th May, the Grass10 & PastureBase team hosted a webinar on "Getting to Grips with the Summer Wedge with PastureBase Ireland". We would like to thank all that came on the webinar. If you missed the webinar, click below to view the recording.
Sign up for weekly grass 10 newsletter