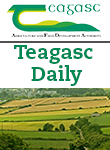 Questions and Answers with Organic Farmer John Hurley, Co. Roscommon
27 May 2020
Type Media Article

John Hurley is from Knockalaughta, Ballintubber, Co. Roscommon. He is an organic suckler cow and sheep farmer. He was due to have a farm walk on his farm. Organic Specialist Dan Clavin got an update from John.


John (right) and his son Alan (left) have been farming organically for 5 years
Farm profile:
Mainly free-draining land.
100 breeding ewes (Texel and Rouge cross ewes, Charollais and Rouge de l'Ouest rams).
25 suckler cows (Limousin cross cows; Charolais stock bull and some AI);cows calve down from November to January; weanlings are sold August to September.
Stocking rate: 1.5 L.U./ha.
Farming organically for 5 years.
Why did you go into organic farming?
Previous to going organic we as a family had been eating organic food for many years. We believe it is much healthier compared to conventional food. We realised the benefits of organic food, both for human health as well as for the earth. A decade ago we kept 58 cows and had a massive feed and fertiliser bill. Production costs were too high so these numbers weren't sustainable. Every year we started reducing herd size and we now keep 25 cows and weanlings with some replacement heifers which is ideal. It's what the land can take.
The land type is mainly good free-draining soil. There are 100 breeding ewes on the farm aswell as 25 suckler cows with weanlings sold in August and September.
How do you maintain soil fertility?
We spread farmyard manure and slurry which is generated on the farm. We take soil samples and spread it where it is needed most. The only other soil fertility input we use are bioinoculants including biostimulant pelleted fertilisers for the land and biostimulant additives for the slurry and farmyard manure. We have far fewer health problems now with our animals and are very happy with the quality and growth of the grassland.
We top thistles once a year before they seed and we pull some other weeds as they emerge. In this way they are easily controlled. If we learn to understand the role they play with the whole farm ecosystem it can help us to tolerate them a little better.
How do you select replacements?
The bottom 10% of our herd is culled every year to make room for high genetic merit replacement heifers. We strive to keep our own replacements. This enables us to keep our stock less exposed to disease risks such as BVD, Leptospirosis, T.B. and IBR. Heifers are selected based on pedigree, physical characteristics and also on their genetic index. We adopt a similar approach with selecting replacements in the sheep flock.
Key traits when assessing the bulls' index are calving difficulty, docility, fertility and milk. Average daily gain and weaning weight are important metrics. We avoid letting our herd become too inbred by using AI and we change our stock bull every few years.

The Hurleys place a big emphasis on breeding their own high genetic merit replacement heifers
What challenges do you face as an organic farmer?
The only commercial market at present for organic lamb is through Irish Country Meats in Wexford. Transporting spring lambs over such a distance from the West of Ireland is a challenge as the kill-out percentage can drop and the cost of transportation is prohibitive. There is an organic premium of 15% above conventional prices but the cut-off carcass weight is 20kg at this time of the year. Therefore, if a lamb exceeds much over 20kg the lamb reverts to a conventional price which is a big drop. This I feel is a challenge and needs to be addressed. As we lamb in early spring, the cost of feeding lambs organically is high as the price of organic concentrates is double that of conventional. Consequently, next year, we intend to lamb later to coincide better with grass growth.

Lambs are bred from Texel and Rouge cross ewes and Charollais and Rouge de l'Ouest rams
Has organic farming a future?
It definitely has. Number one is the health benefits for animals and man. The benefits of consuming organic food are numerous. Through organic farming, our animal health has vastly improved which has decreased our vet bills. It is important to be proud of being a farmer again. Organic farming allows us to believe in a new more sustainable and more responsible agriculture. It encourages biodiversity which plays a critical role in how resilient, or not, a farm is to issues like bad weather, disease and pests. We have to believe in it to change and spread the word of a new farming era. Farming in harmony with the environment is the only possible way forward.
For further information on organic farming go to: www.teagasc.ie/organics