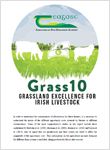 Grass10 Newsletter - 16 November 2021
16 November 2021
Type Newsletter

Information and updates from the Grass10 team

Download Publication (PDF)
The key messages in this week's newsletter are:
PastureBase Ireland data for the week for both Dairy and Beef & Sheep farms. Elodie Ruelle's MoSt Grass Growth Prediction Model
Dairy farmer Arthur Sweetman, Co. Wexford updates us on his plan to reach the target AFC by Dec 1st and keep grass in the diet.
Grass10 Grazing tips for the week
Grassland Farmer of the Year Most Improved Grassland Award Winner – Noel Hurley summarises his autumn grazing and we take a look at his Farm Summary Report
Information on two upcoming events: National Dairy Conference and our final webinar of the year titled "Opportunities for Growth in 2022 with PastureBase Ireland"
Please see the My 2021 PastureBase Scorecard (PDF). This scorecard can be used by farmers who have walked their farm regularly in 2021 and recorded their data on PastureBase, as well as using the tools available to push their farm to the next level. It identifies your strengths and areas for improvement for 2022. This is a great way to analyse your PastureBase reports & review your performance. Print out the scorecard and get reviewing your performance!