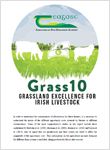 Grass10 Newsletter - 2 March 2021
02 March 2021
Type Newsletter

Information and updates from the Grass10 team

Download Publication (PDF)
The key messages in this week's newsletter are:
PastureBase data for the week & Elodie Ruelle's MoSt Grass Growth Prediction Model. A return to dry and settled conditions at last!
Grazing and Fertiliser advice as we move into early March. Begin walking your farm weekly from this week and record covers on PastureBase Ireland to monitor Average Farm Cover and % grazed.
An update from William Burchill on the Teagasc/Dairygold Joint Programme on the benefits of using LESS technology.
Grazing Management Tips on Irish Sheep farms as lambing begins from Philip Creighton in Teagasc Athenry, Co. Galway.
Spring Grazing Update from Grassland Farmer of the Year, Dairy category and overall winner Caroline Walsh.
After a wet February, many farmers around the country are behind target on their Spring grazing plans. Not to worry! Join the Grass10 & PastureBase Ireland team on their monthly webinar on Wednesday, 3rd March at 7pm, as we discuss what changes farmers need to make so as to plan out grazing throughout March. Hear from special guest's heavy soils dairy farmer Sean Barry from Pallasgreen, Co. Limerick & beef farmer JP Hammersley from Lattin Co. Tipperary as they discuss how they will manage grass on their farms throughout Spring using the tools on PastureBase Ireland. On the night we will talk through JP's Spring Rotation Planner & Sean Barry's grass budget and the importance of updating these planner through weekly grass walks as we move through the Spring. More information on www.teagasc.ie/grass10