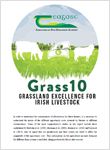 Grass10 Newsletter - 23 November 2021
23 November 2021
Type Newsletter

Information and updates from the Grass10 team

Download Publication (PDF)
The key messages in this week's newsletter are:
PastureBase Ireland data for the week for both Dairy and Beef & Sheep farms. Elodie Ruelle's MoSt Grass Growth Prediction Model
Donal Patton & Barry Reilly review the grazing year from Ballyhaise Research Farm in Co. Cavan
Grass10 Grazing tips for the week
Grassland Farmer of the Year Young Farmer Winner David O Leary gives us an update and we review his grass grown & fertiliser usage for the year
Information on the final Grass10 webinar of the year: "Opportunities for Growth in 2022 with PastureBase Ireland"
Please see the My 2021 PastureBase Scorecard (PDF). This scorecard can be used by farmers who have walked their farm regularly in 2021 and recorded their data on PastureBase, as well as using the tools available to push their farm to the next level. It identifies your strengths and areas for improvement for 2022. This is a great way to analyse your PastureBase reports & review your performance. Print out the scorecard and get reviewing your performance!