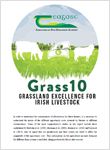 Grass10 Newsletter - 30 November 2021
30 November 2021
Type Newsletter

Information and updates from the Grass10 team

Download Publication (PDF)
The key messages in this week's newsletter are:
PastureBase Ireland data for the week for both Dairy and Beef & Sheep farms. Elodie Ruelle's MoSt Grass Growth Prediction Model
GET YOUR CLOSING AFC COMPLETE THIS WEEK
Key points from the recent Virtual Dairy Conference
Information on the final Grass10 webinar of the year: "Opportunities for Growth in 2022 with PastureBase Ireland" which is taking place on Thursday, 2 December at 7pm
Grassland Farmer of the Year Sheep Winner Peter McGuinness gives us an update & we review some of his grazing performance using PastureBase
Link to The Beef Edge Podcast latest episode with Mark Plunkett
Athenry Research Update from Phil Creighton
The PastureBase Scorecard is a great way to analyse your PastureBase reports & review your performance. Print out the scorecard and get reviewing your performance!