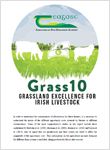 Grass10 Newsletter - 9 November 2021
09 November 2021
Type Newsletter

Information and updates from the Grass10 team

Download Publication (PDF)
The key messages in this week's newsletter are:
PastureBase Ireland data for the week for both Dairy and Beef & Sheep farms. Elodie Ruelle's MoSt Grass Growth Prediction Model
Information on two upcoming events: National Dairy Conference and our final webinar of the year titled "Opportunities for Growth in 2022 with PastureBase Ireland"
Dairy farmer Dara Killeen, Co. Galway updates us on his plan to reach the target AFC by December 1st and keep grass in the diet.
Grass10 Grazing tips for the week
GFOY Sustainable Farming Merit Award Winner – JP Hammersley gives us a grazing update and his success at grass with dairy-calf to beef
PastureBase Reports – time to review!