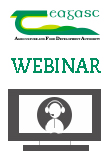 Let's Talk Dairy - Milk Recording Reports
30 April 2021
Type Event Proceeding

In this week's episode in the Let's Talk Dairy webinar series, Stuart Childs discusses milk recording reports and the importance it has to farmers.

Milk recording is important to identify superior cows who are producing high levels of solids and also to identify the most productive cows which can then be beneficial from an environmental and economic point of view.
Generally, milk recording is an under utilized tool at the moment. There has been a big increase in milk recording figures in relation to the 2019 figures with 2020 not being reviewed as much because of the impact of COVID-19. There's also been a big impact of milk recording in the progressive area and in the Munster catchment area also.

Stuart also explains how to use the information acquired from the milk recording figures.
Listen to the webinar as a podcast below
Watch webinar recording below:
Let's Talk Dairy is a weekly webinar series held every Thursday morning, offering timely, relevant and practical advice to allow you make better management decisions on your dairy farm. Find out more here