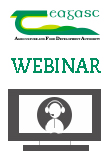 Let's Talk Dairy - Weed Control
10 May 2021
Type Event Proceeding

In the latest episode of the Let's Talk Dairy webinar series, Stuart Childs, Dairy Specialist is joined by Ciaran Collins, Tillage Specialist to discuss weed control, following up on the recent webinar with Deirdre Hennessy on establishing grass-white clover swards.

Ciaran gave an overview of Integrated Pest Management (IPM); pesticides and water; 2,4DB; herbicides for new lays; and pests in new lays.
We should be working towards avoiding the use of pesticides by focusing on soil fertility as it underpins grassland performance as well as reseeding establishment. Having a strong reseed established has a greater power to avoid pests issues as well as the power to suppress weeds which reduces the requirement of chemical usage in the lifetime of the sward.
Listen to the webinar as a podcast below
Watch webinar recording below
Let's Talk Dairy is a weekly webinar series held every Thursday morning, offering timely, relevant and practical advice to allow you make better management decisions on your dairy farm. Find out more here