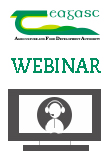 National Crops Forum - Part One
10 September 2021
Type Event Proceeding

The annual National Crops Forum takes place virtually this year due to Covid19 Restrictions. Part One of the forum took place on Thursday, 9th September and focused on Agronomy & Grain Markets.

Topics covered & speakers included
Update on varieties available for this year with an eye on disease resistance in cereals
John Joe Byrne, Department of Agriculture, Food & the Marine (DAFM)
Short and medium term markets prospects for grains
Phelim Doran, Comex McKinnon
A questions and answers session took place that the end of the webinar.
Watch Part One of the Forum back below
A recent episode of The Tillage Edge podcast covered the questions and answers session from the webinar, listen in below.